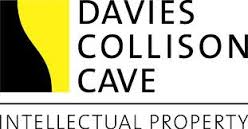 Davies Collison Cave (DCC) have been ranked Tier 1 in Trade Mark Prosecution and Tier 2 in the Trade Mark Contentious categories by Managing Intellectual Property for Australian firms in 2019.
These rankings are in addition to DCC also being recognised by Managing Intellectual Property as the Australian Trade Mark Prosecution IP Firm of the Year in 2018.
About Davies Collison Cave (DCC)
DCC was established some 140 years ago and remains one of Australia's largest – and most longstanding – intellecutal property firms, with offices in Melbourne, Sydney, Brisbane, Singapore and New Zealand.  DCC is wholly owned by QANTM Intellectual Property Limited, an Australian Securities Exchange listed company.
Managing Intellectual Property (MIP)
Managing Intellectual Property provides comprehensive coverage of the world's leading IP firms and practitioners; recommendations are compiled through an intensive research process that includes market review, industry surveys and client interviews.