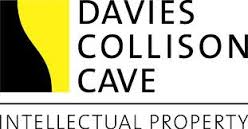 Davies Collison Cave Principal, Alistair Smith, has been recognised as the Client Choice Awards exclusive winner of the IP – Patents category for Australia.
About Davies Collison Cave (DCC)
DCC was established some 140 years ago and remains one of Australia's largest – and most longstanding – intellecutal property firms, with offices in Melbourne, Sydney, Brisbane, Singapore and New Zealand.  DCC is wholly owned by QANTM Intellectual Property Limited, an Australian Securities Exchange listed company.
Client Choice Awards
Established in 2005 by Lexology, the Client Choice Awards recognise law firms and partners around the world for client service that truly stands apart. The criteria for this recognition focuses on an ability to add real value to clients' business above and beyond the other players in the market. Uniquely, law firm individuals can be nominated only by corporate counsel.